Starfield may have been one of the biggest video game launches this year, but it has certainly seen a lot of controversy online, with the latest drama erupting between YouTuber The Act Man and a smaller streamer on X. Readers might know that person for going viral a couple of weeks ago for complaining about the in-game gas giant planets not being explorable.
Bethesda's new sci-fi epic has received a lot of criticism as well as hate for certain gameplay options. From the 'pronouns outrage' and few PlayStation "fans" planning to review-bomb the game on release, Starfield's release has been fraught with controversies and some fans are pushing back against it.
X user and relatively small YouTuber KingThrash Gaming was lambasted by popular creator The Act Man in a recent video, which was a response to some of the grievances against the game. However, KingThrash Gaming, in his response on X, brought up his race as a defining factor. The Act Man, however, was having none of it and pushed back:
" class="promoted-img" loading="lazy" width="1440″ height="220″ alt="fortnite-promotional-banner" />
"Bruh, you ain't dumb cuz of your race. You're dumb cuz you're a Neanderthal that don't know what 12×6 is or what a gas giant is. Go back and get your elementary school diploma, then we can talk. Until then don't @ me, you clown"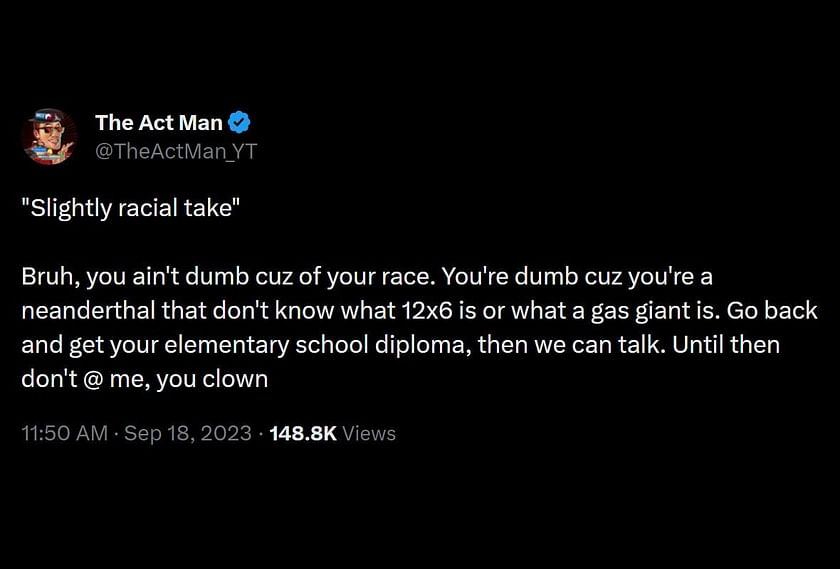 ---
What started the feud between The Act Man and KingThrash Gaming? Take about gas giants in Starfield not being explorable explained
As mentioned before, there has been a lot of hate leveled against Starfield since before its release. In that regard, the online drama and meltdown surrounding the game giving players options to choose pronouns during character creation is just the tip of the iceberg.
Back in August, a smaller creator posted on X complaining about gas giants not being explorable in the game. On top of a community note, many in the gaming community have since clowned KingThrash Gaming for wanting such a feature, with the post currently crossing 9.5 million views. Naturally, The Act Man included this in his video titled The WORST Starfield Hot Takes.
Timestamp 2:42
The YouTuber took around five minutes to explain his position on the validity of the comment on the gas giants. This incurred the wrath of the OP, who took to X recently and insinuated that the video questioned his (KingThrash Gaming) intelligence because of his race:
"I Wasn't going to respond but I just couldn't help myseld [sic]. Join us today at 6pm pacific as we breakdown his idiotic slightly racial take on my comment."
---
How did the rest of the community react?
The two YouTubers' feud has garnered a lot of attention, with many taking sides. Here are a couple of reactions from X. Some even comment on KingThrash Gaming's math skills, with a few calling out The Act Man.
---
Readers might be interested in our spoiler-free review of Starfield that goes into the nitty gritty of its universe and gameplay mechanics, such as the combat and character interactions.
Edited by Sijo Samuel Paul