Sean Strickland recently got hold of a flamethrower and decided to chase Hans Molenkamp with it playfully. The new UFC middleweight champion was seen messing around with the dangerous toy in a video uploaded by the infamous Monster Energy representative.
Given that the energy drink brand is among Strickland's biggest sponsors, it's unsurprising to see 'Tarzan' hanging out with Molenkamp. The businessman took to Instagram to post a video of Strickland seemingly test-driving the flame thrower and even using it on Molenkamp. He hilariously captioned the post:
"I love the smell of burnt hair in the morning" – @strickland_mma"
Fans were highly amused by Strickland's antics, with many of the opinion that playing with fire was absolutely on brand for him. They took to the post's comments section to express their thoughts.
One fan hilariously joked:
"Another example as to why the male life expectancy is shorter."
Famous Instagram influencer Nina-Marie Daniele joked about the dangers of being around Sean Strickland and wrote:
"You all need to sign a waiver to be around that man."
One user jokingly blamed Hans Molenkamp for causing his own troubles and wrote:
"You gave a guy that literally thinks of murder 24/7/365 a flamethrower."
Another user wrote:
"Most normal Sean Strickland post."
Check out some more reactions below: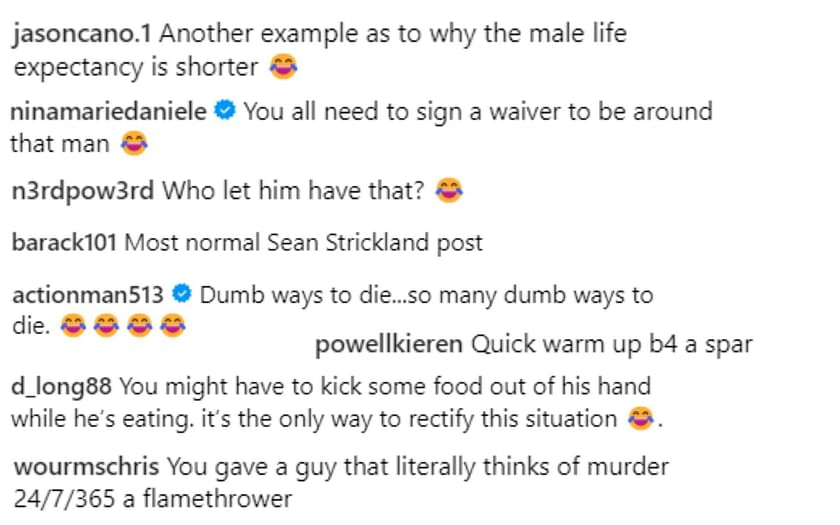 ---
Coach Eric Nicksick reveals Sean Strickland was nervous before facing Israel Adesanya at UFC 293
Xtreme Couture head coach Eric Nicksick recently revealed that Sean Strickland had a serious case of the jitters going into his middleweight title fight against Israel Adesanya.
Strickland got a title shot after Dricus Du Plessis unexpectedly pulled out of his championship opportunity against Adesanya at UFC 293. As soon as the new matchup was announced, 'Tarzan' was a massive betting underdog, with most fans expecting him to be an easy opponent for 'The Last Stylebender.'
However, Sean Strickland shocked everyone with his incredible performance against Israel Adesanya. 'Tarzan' outpointed the Nigerian-born Kiwi over five rounds to win via unanimous decision. While he was widely hailed for sticking to his game plan, Nicksick recently claimed that Strickland was a nervous wreck before the fight.
During an interview with The Schmo, Eric Nicksick opened up about Strickland's mindset going into the biggest fight of his life. He said:
"He was just very unsure. I could feel his energy. I looked at him, I said, 'Hey bro, we're gonna win this fight, and you gotta believe it as much as I do'… After the fight, he is like, 'I didn't know, I didn't believe it, and then I saw how much you believed in me, and it made me believe in myself.'"