Every European player received a special custom message from someone before the Ryder Cup, including Rory McIlroy. He may have had the most touching one. His longtime friend and caddie Harry Diamond sent him a video of encouragement before the Irishman embarks on another tournament appearance.
McIlroy was reduced to tears by the touching video. Everyone in the team got one, but not everyone was moved in such a way. He said via Irish News:
"There were a lot of tears shed. Harry did my one, just sort of bringing us through our journey."
Mcllroy continued, detailing what the video entailed and what it meant to him. He and Diamond met at Holywood Golf Club when they were seven years old. McIlroy is now 34, so their friendship has stood the test of time. It's the third time the two have worked together on the Ryder Cup, too.
He said:
"It's incredible.We're all here and we're all trying to play for our team-mates and our captain and our vice-captains, but then to receive a message like that and to realise how many more people that you're representing by being here, it's really, really cool. The other guys got messages that meant just as much to them."
Diamond and McIlroy share a special bond. They're fortunate to still be friends, let alone work together as Team Europe searches for a home victory over Zach Johnson's American side.
---
Rory McIlroy made comments about LIV Golfers
Rory McIlroy has conceded that the current Ryder Cup feels different for a variety of reasons. One of them is the glaring absence of anyone from LIV Golf. The European side has zero from the rebel tour, while Brooks Koepka is the lone one from the American side.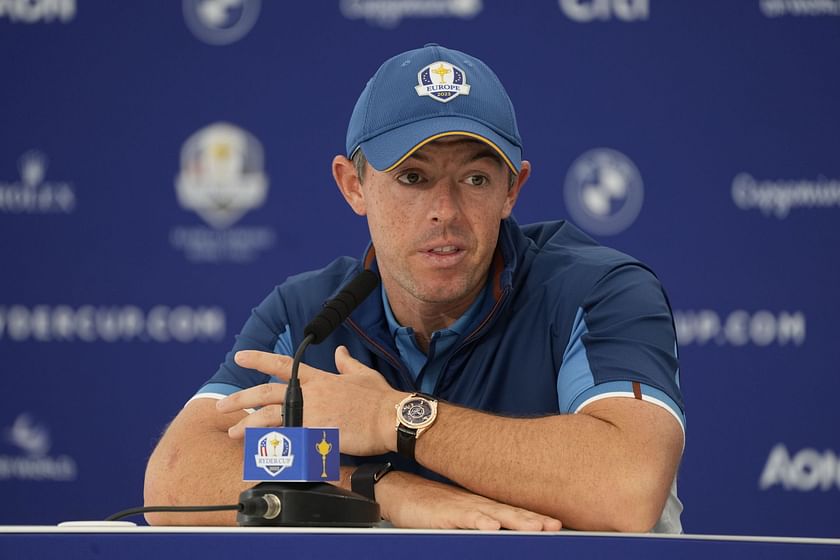 Sergio Garcia, Henrik Stenson (who was the previous captain before being removed), Ian Poulter, Lee Westwood and others are not involved. McIlroy believes this is a consequence of their choice, and he hopes they learn from it:
"I think this week of all weeks, its going to hit home with them that they are not here and I think they are going to miss being here more than we're missing them…. I think this week is a realization that the decision that they made has led to not being a part of this week, and that's tough."
McIlroy has long been one of the rebel tour's biggest detractors- and its most vocal. He rarely misses an opportunity to discuss it. In the immediate wake of the PGA Tour merger, he doubled down and said he still wants LIV to dissolve.
These comments aren't surprising with that in mind. The Irish golfer has been in defense of his tour since the beginning. Now that he's operating for Team Europe and not PGA, that hasn't changed.
Rory McIlroy will open the competition on Friday in the Foursomes for Luke Donald's team. He's matched up with Tommy Fleetwood and will face Xander Schauffele and Patrick Cantlay for the final match.