Rhea Ripley has delivered a one-word message ahead of tonight's edition of WWE RAW from the State Farm Arena in Atlanta, Georgia.
Ripley is part The Judgment Day faction on the red brand and is in the middle of a dominant reign as Women's World Champion. The Eradicator has become one of the biggest stars in the company and still has the bulk of her career ahead of her. At just 26 years old, Ripley could be in store for one of the most illustrious careers in WWE of all time.
Earlier today, Mami took to Instagram ahead of tonight's RAW in Georgia. She posted a selfie with the caption "shining" on her Instagram stories.
You can check the screengrab below: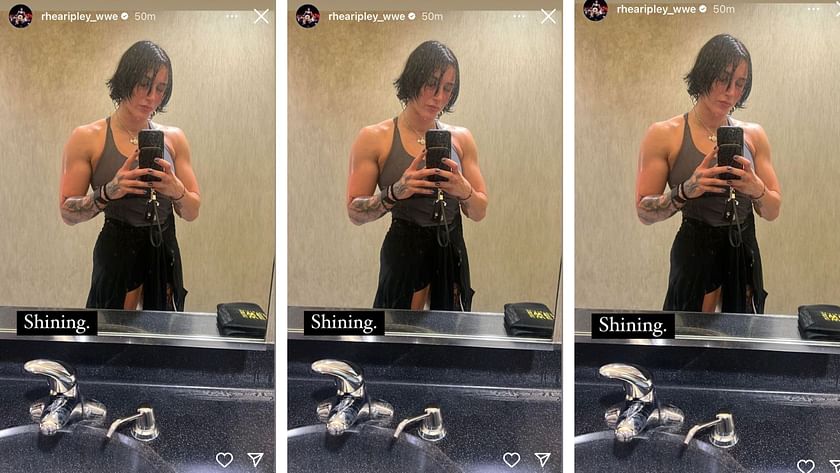 WWE Hall of Famer Shawn Michaels compares Rhea Ripley to Chyna
Shawn Michaels recently praised the Women's World Champion and compared her to WWE legend Chyna.
Joanie Laurer (Chyna) made a huge impact in WWE in the few years she was active in the promotion (1997-2001). She captured the Intercontinental Championship twice and won the WWF Women's Championship at WrestleMania 17. She sadly passed away in 2016 and was finally honored by the company when she was inducted into the Hall of Fame as a member of Degeneration X in 2019.
Speaking to Sportskeeda Wrestling in an exclusive interview, Shawn Michaels discussed the comparisons between Rhea Ripley and Chyna. Michaels admitted that he will always be a little biased toward Chyna because she changed the face of women's wrestling. However, The Heartbreak Kid added that Rhea Ripley is one of his favorites.
"Certainly Chyna was one of the rare and unique people. I think she changed the face of women's wrestling in a big way, so I guess I'll always kinda be biased in respect to Chyna. I think she was unlike any others before her. But, look, Rhea is absolutely one of my favorites." [3:19 – 3:44]
You can check out the full interview in the video below:
Tonight's edition of WWE RAW is set to be an exciting show as Brock Lesnar will be returning to respond to Cody Rhodes' SummerSlam challenge. It will be interesting to see if anyone challenges Rhea Ripley to a match for the Women's World Championship at SummerSlam tonight on RAW.
Which RAW star do you think deserves a shot at the Women's World Championship at SummerSlam 2023? Let us know in the comments section below.
Is Rhea the new Chyna? We asked Shawn Michaels right here