Memphis Grizzlies star point guard Ja Morant is set to miss the first 25 games of the 2023-24 NBA season. This comes after Morant was suspended in June for "conduct detrimental to the league" after brandishing a firearm on social media for the second time. Morant's suspension has dampened some of the excitement surrounding Memphis' upcoming season.
However, it hasn't stopped Morant from having fun with his Grizzlies teammates, including 2023 Defensive Player of the Year Jaren Jackson Jr.
Jackson recently made an appearance on LA Clippers star wing Paul George's podcast, "Podcast P with Paul George." During the podcast, Jackson was asked if Morant had ever dunked on him. The reigning DPOTY then told a story about a time that Morant converted a reverse alley-oop on him. However, Jackson said that he doesn't really count it as Morant posterizing him.
"Ja dunked on me first day. It was an oop, though, so I don't count that," Jackson said.
Jackson then broke down the play in detail before saying that there was nothing he could have done to stop it due to Morant's superhuman-like vertical:
"He went around, like — I'm backing up … he went over like an Iverson, wrapped and then caught a reverse oop.
"It's Ja, what do you want? He's got a 70-inch vertical. … That's dead after that. No more plays like that."
The podcast clip later elicited a reaction from Morant on Twitter as he responded to the video with a couple of grinning and laughing emojis. However, the Grizzlies star offered no other follow-up comment about Jackson's story.
Also read: NBA analyst shockingly opines Knicks star is 'flat out a better basketball player than Ja Morant'
Jaren Jackson Jr. on the craziest thing Ja Morant has done in practice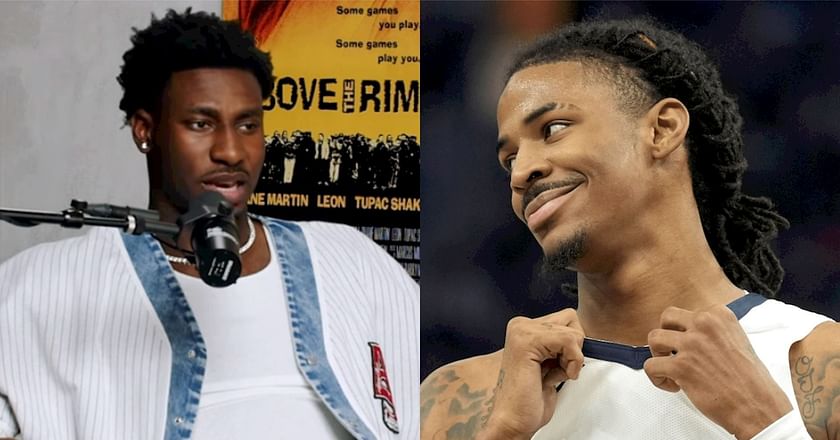 During his Podcast P appearance, Jaren Jackson Jr. was also asked about the craziest thing that Ja Morant has ever done in practice. However, the star big man instead spoke about how Morant's wildest moments often come when he throws down creative dunks in warmups.
"Warmups is really when it's crazy," Jackson said.
"He did like a reverse between the legs (while) blindfolded. Like he caught it, went reverse between his legs, and then put his arm over his head and threw it in. … Yeah, the kid's going crazy. … I was like, 'Oh my God.'"
Also read: 4 reasons why Ja Morant and the Grizzlies won't make the NBA playoffs