Cyberpunk 2077 Phantom Liberty has some interesting side jobs, like Dazed and Confused. This one can be incredibly short, depending on how quickly you solve the puzzle and get everything taken care of. I picked this up while I was going through the Spy in the Jungle side quest. Mr. Hands originally planned on making this a gig, but there's a slight problem with the information he received. He could not confirm we were really trying to rescue Lina Malina.
That's the goal of Cyberpunk 2077's Dazed and Confused side job. Reportedly, a group of BD recorders has kidnapped "Lina Malina" and you need to save her from their clutches. However, all isn't what it seems in this particular mission.
---
" class="promoted-img" loading="lazy" width="1440″ height="220″ alt="fortnite-promotional-banner" />
Cyberpunk 2077 Phantom Liberty Dazed and Confused objectives
Mission objectives
Rescue Lina from the BD Store
Find Lina Malina
Find a way to open the booth
Talk to Tool, Message Mr. Hands
1) Rescue Lina from the BD Store
Though Mr. Hands has washed himself of this task, you can take it on if you'd like. This is your primary objective for Cyberpunk 2077's Dazed and Confused side job. Once you get to the objective point in question, you'll see this Braindance store has been completely trashed.
There's nobody here, but someone is yelling to be let free. You'll want to head downstairs to see what the ruckus is about. You might see someone else here – take them out.
---
2) Find Lina Malina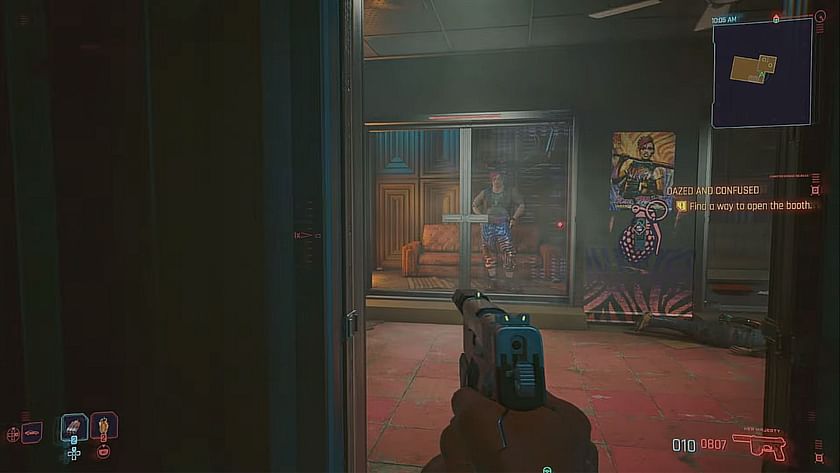 When you get to the Braindance booths downstairs, you'll see something amiss for this Cyberpunk 2077 side job. Lina Malina is certainly not here. Instead, someone else is locked up and is completely convinced they are the famous Braindance star Lina Malina. They are locked in the room and cannot get out.
---
3) Find a way to open the booth
That's the real crux of this problem. You can't just break the door down, and you can't open it without a code or authorization card or something. Cyberpunk 2077's Dazed and Confused doesn't give you any hints on what to do either.
Even after checking the computers, you aren't going to find any hints to completing Dazed and Confused. The secret is to go into the area upstairs with the computers and scan the "Handwritten note" on one of the tables. It says to not forget "1111." That's the genius passcode to get into the Braindance stall that this person, who is supposedly Lina Malina, is in.
---
4) Talk to Tool, Message Mr. Hands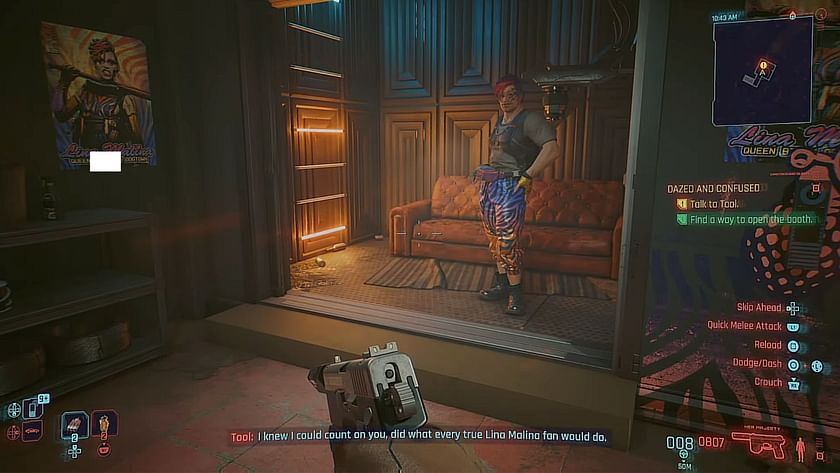 This person will thank you for letting them out, as "any good Lina fan would do," and says to pucker up. However, you aren't required to kiss them to complete Cyberpunk 2077's Dazed and Confused side job. If you reject it, you'll say you have a Cold Sore.
V and Johnny will remark that this job was almost too easy. When you message Mr. Hands, you get two options. We chose that it turns out "Lina" was someone being held prisoner by their business partner. We wiped the partner and let the poor person go free. He wasn't interested in this at all but suggested V return to work.
---
Unfortunately, there are no rewards for completing Dazed and Confused in Cyberpunk 2077. However, it's a weird, comical mission that is still worth completing for no other reason than to see it all play out. There are still plenty of other Mr. Hands side gigs to do.
Edited by Ritoban "Veloxi" Paul