About a month ago, Giannis Antetokounmpo announced his latest business endeavor. Alongside his brothers, they invested in the Los Angeles Golf Club. On Friday afternoon, the two-time MVP took to social media to congratulate the club on secure two more big-name investors.
The Los Angeles Golf Club is part of the TGL, a new rapid-growing golf league. Their goal is to create a unique product to draw more eyes to the sport of golf. Upon their announcement, Giannis Antetokounmpo and his brothers showcased their own swings.
On Friday afternoon, the LA Golf Club announced two more people who will be investing in the team. Those being Alex Morgan and Michelle Wie West. Morgan is a gold medal winning soccer player for Team USA, and West is a member of the LPGA Tour.
Following the announcement, Giannis couldn't help but celebrate. He posted a picture to his Instragram story to show his excitment of the new investors coming aboard.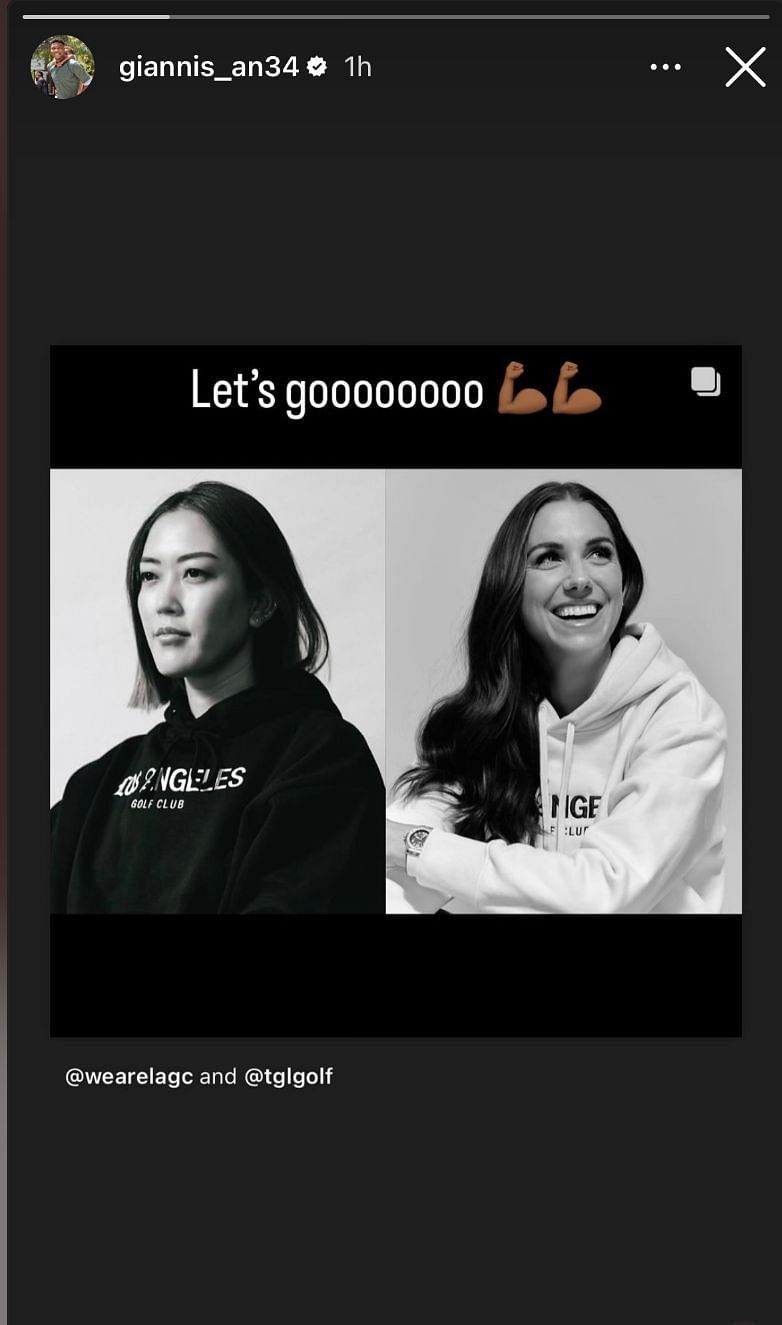 Morgan and West join a star-studded cast of investors of the LA Golf Club. Along with the Antetokounmpo brothers, other notable names include tennis legends Serena and Venus Williams.
The TGL is set to have its inagurial season starting in January, 2024.
---
Giannis Antetokounmpo makes first social media post following blockbuster trade
The good news continues to flood in for Giannis Antetokounmpo. Prior to finding out more pro athletes are joining him on his venture, he team made a move that changed the landscape of the NBA.
This offseason, the biggest story in the league was Damian Lillard and his departure from the Portland Trail Blazers. After over a decade with the franchise, he informed them he'd like to be traded to the Miami Heat.
Lillard got traded earlier this week, but not to the team of his choosing. Instead, he is on his way to Milwaukee to join Giannis and the Bucks. Portland ended up working out a three-team trade with the Bucks and Phoenix Suns to offload their franchise star.
We haven't heard much from Giannis since this blockbuster trade, but the star forward recently broke his silence on social media. He posted a photo of himself in the gym to let the world know he's hard at work before the season gets underway.
Giannis Antetokounmpo made it clear this summer he wants to compete for championships, and the organization heard him. By going out and getting a star the caliber of Lillard, the Bucks will be a perennial finals contender for the foreseeable future.
Edited by Kevin McCormick